An interview with Tim Wells: ranting poetry, subcultures and a bit of horror
The long time ranting poet from London talks about his cultural influences, his current and past activities and his oncoming pulp horror novel "Moonstomp"
🇮🇹 Attenzione! Questo articolo è disponibile anche in italiano: Un'intervista con Tim Wells: ranting poetry, sottoculture e un po' di horror.
Tim Wells
The name Tim Wells is associated with lots of things that interest us: fanzines, ranting poetry, reggae and soul deejaying, skinhead and suedehead cults (he became a skin in the late '70s) and more.
His poetry is class-conscious, plus it absorbs influences from his music tastes and of course from his literary preferences, as shown by his occasional use of nadsat, the fictional slang from A Clockwork Orange.
His bibliography includes A Man Can Be A Drunk Sometimes But A Drunk Can't Be A Man (2001), If You Can Read This, You're Too Close (2003), Boys' Night Out In The Afternoon (2005), Rougher Yet (2009), Keep The Faith (2013), Mary Millington (2014), Everything Crash (2015) and Moonstomp (2019), which has attracted our attention because of its fusion of horror and subcultural elements.
During the interview with Tim Wells a small misunderstanding occured, specifically when we used the term "Oi! poetry": well, that's the way we Italians call the ranting poems containing topics common to Oi! lyrics, like those made by Garry Johnson. We're not sure where that definition comes from (maybe some old Italian skinzines?), anyway it's commonly accepted in Italy and it was a bit surprising to find out that it's rarely used outside our country.
For the moment we've said enough. Now let Tim Wells tell us more about himself, his interests, and activities. Enjoy the reading!
Interview
Tell us about your involvement in the skinhead scene. Those were the years of the skinhead revival, new punk, 2 Tone, and later Oi! music and even ranting poetry. Were you attracted by all the aspects of the skinhead cult?
I was into reggae and I liked the skinhead/suedehead style. I liked that working class kids could be better dressed than posh ones and that look frightened the toffs.
I listened to a lot of dub, the Joe Gibbs labels were my favourite, and also a lot of dancehall on the Greensleeves label. I saw a lot of live bands and reggae sounds.
I went to quite a lot of punk gigs, we'd go and see all sorts of bands, and I liked punk bands like The Ruts.
I saw most of the Oi! bands, some good, some awful and I thought that Oi! drove into a dead end quite quickly.
Reggae music, especially when a sound system plays out, is like a newspaper. The DJ on the mic will run down what's been happening and what's going on. I liked the immediacy of that and it's something we picked up on in ranting poetry. Many of the poems packed a punch, but had a definite sell by date.
I was gigging early on with people like Seething Wells, John Cooper Clarke, Attila the Stockbroker, Ginger John, Porky the Poet, Ben Zephaniah and more. I liked the directness and in yer face of poetry gigs. I still do.
When did you start with Oi! poetry? Do you consider it just a synonym for "punk poetry" or "ranting poetry" or you think it's somehow distinct?
I'm not sure what you mean by Oi! poetry. I tend to avoid labels, I think they're used to keep people down. I sometimes get called a "punk poet", generally it's someone posh trying to remind me that I'm not.
I work hard at my writing and I've written some good poetry. That's enough to make me a poet.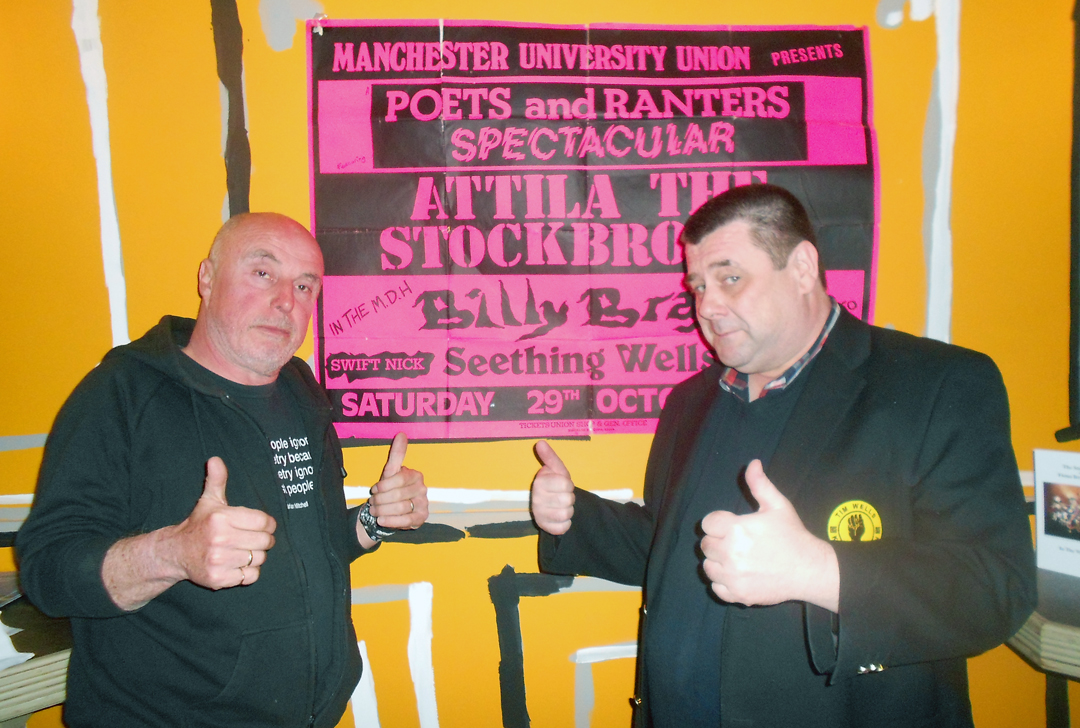 When talking about ranting poetry, the first names that come to our minds are Garry Johnson and Attila the Stockbroker. Can you name some underrated poets?
I still gig with both Garry and Attila. Linton Kwesi Johnson and Michael Smith were both poets I looked to. I still gig with Linton but sadly Mikey was murdered in 1983. He was stoned to death for heckling a politician.
Their strong Jamaican accents were an important part of their work and it told us that our working class voices were important too.
Linton's poem "Sonny's Lettah" was one all my mates knew, and we all knew what it was about. We loved reggae music, and like reggae music the poetry brought us together.
Other poets worth checking out are Emily Harrison, Chip Hamer, Hannah Lowe, Salena Godden, and the Poetry on the Picket Line crew. As the name says, they do gigs on picket lines.
Young poets have heard and read poems like "Young Conservatives" and "Guvnor's Man" and totally get them. More importantly it shows that there was a working class voice, and it brings the question why don't they hear it now?
One thing reggae, punk, and 'zines had at their heart was doing it for ourselves. I've never expected anything from the establishment, building it ourselves is a threat to them and makes us stronger.
What about your current involvement in ranting poetry? Is there currently an interest for such scene? Any subculture kids following it?
There haven't really been ranting poets since the mid-'80s. A few years ago I did a series of gigs with many of the old ranters called Stand Up And Spit. All of the gigs had young poets on too.
I wanted to link up the struggles we were fighting in the '80s to what's happening today – it's still the same fight. Spoken word is in a very healthy state but it hasn't really decided what its history is.
I started a blog called Stand Up And Spit as all that we did was pre-interweb. There's now a lot of poetry, music, and politics showing what we did and what the context was. There's also a lot of historical working class poetry from round the world.
I do get a few skinheads and punks at gigs, they're mostly welcome. I don't sit down to write "skinhead poems" but with so much of my life wrapped up in the music and style it's something that I often write about. I try to be honest and write something that everyone can get something from even if they're not in brogues and Brutus.
Some of my best supporters are skinheads, my age and younger. Hold tight Polly, Peyvand, Aisling, Maor, Matthew, Rooby, Zuri, and Jenny.
Can you tell us about your activity as a novelist? Were you influenced by pulp literature, and especially by those writers who did focus on subcultures, like Richard Allen and later Stewart Home?
Moonstomp is the first novel I'll have had published. John Mitchinson at Unbound books, like me, is a big fan of the '70s youth cult pulps that the likes of New English Library used to churn out.
We did a panel talk together and got chatting. He was telling me that they were about to put out Dave Hill's autobiography (they have, and it's great) and we got onto New English Library.
I said that I'd written a book about a skinhead werewolf, when the moon is full his sideburns grow. John quickly told me he wanted that book. I told him I was joking, which I was, and he asked me if I could write it. I'm not one to look a gift horse in the mouth and so we did a deal there and then.
I read a lot of New English Library at school. In my generation there were kids like me that read Suedehead, Chopper, and all those skinhead and Hells Angels books. I've got quite a collection, with my favourites being Agro and Albion! Albion!
We also got excited by Sven Hassel. The other kids were reading sci-fi. We met in the middle with Pan Book of Horror Stories, which were collections of short horror stories with gruesome covers.
I've peppered bits from old ghost stories through Moonstomp. It is a pulp novel but just because I've got cropped hair it doesn't mean I don't read. There's a cultural history to both me and what I write.
James Herbert's The Rats was popular too. He was from East London and it also influenced Moonstomp. Like the ranters, he was a working class lad making a go of it. The likes of us had a scrap of it.
I've known Stewart Home a long time. His writing isn't an influence, but he has been very encouraging. He was mainly a skinhead because he has very curly hair.
You're obviously into Hammer Film Productions. Can you tell us more on your passion for horror?
When I was a lad most of our weekends were reggae music, kung fu and horror films. They all went together very well.
I loved the Hammer films. Ralph Bates wore a lot of clothes in the films that we had an eye on as suedeheads. English horror is quite specific in that it's something internal, already there, that is the threat. With American horrors, like slasher films, the threat comes from outside.
Decent horror stories, like M.R. James, Robert Aickman, and Vernon Lee, are usually short and tightly written. That appeals to me as a poet. I like distillation in work, whiskey not beer.
The mixture of horror and subcultures is very fascinating. Anyway, both punks and metal heads are featured on a good number of horror films, while skinheads only appear on the recent Green Room (well, they're actually nazi boneheads) or on single scenes, like in Friday The 13th Pt. VIII – Jason Takes Manhattan. This is one of the reasons why we're interested in your forthcoming novel…
Those films are all too recent for my taste. I saw Green Room, Imogen Poots was good, but aren't they all punks? Those films are all too modern.
I prefer black and white Universal horrors like Werewolf of London. There's humour, and some philosophising in those films that gives them some depth. As a lad I liked the Amicus portmanteau films and Dracula A.D. 1972. Ingrid Pitt got me through puberty.
Across the channel Romero (I liked Martin a lot), Carpenter, and Cronenberg made films that were actually saying something.
With the book I started out to spoof Suedehead, the Richard Allen book, but quickly scrapped this and wrote my yoof but with an added werewolf. The book is set in 1979, and has a lot about clothes and gigs. It's also accurate – which you don't get in far too many skinhead books.
We had some great horror on TV in Britain, the Hammer House of Horror series is one that resonates deeply with people my age, and we used to have superb old horror and sci-fi films late on TV that we'd stay up for.
In the '70s films the portrayal of "ordinary" people veers from hilarious to precise. Angela Pleasence played some chilling "ordinary person" roles. I think the '60s and '70s horrors where the sinister was part of the everyday, which it is, are more effective for it. That said: Trump is a president.
What about Italian horror? Who are your favourite directors?
Suspiria was a good film, and that was popular. Dario Argento always added some artiness to his horror.
There were several cannibal films that we liked too. Cannibal Holocaust we saw a few times, but I liked Last Cannibal World better. For some reason there were quite a few cannibal films made by Italian directors.
Beyond the early '80s I can't say much about Italian horror.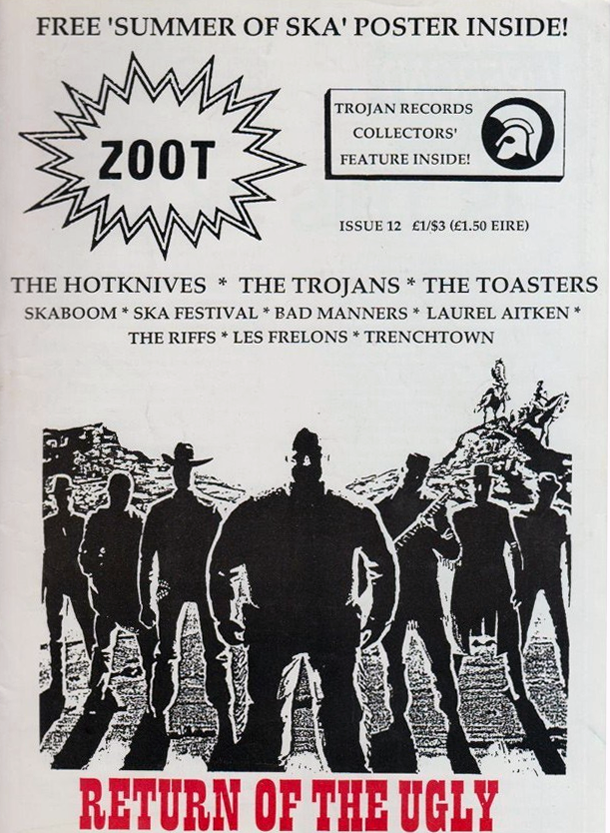 Can you tell us about your other activities as a DJ, fanzine editor, etc.?
I DJ a bit in my local and at other gigs. I usually play a mix of reggae and punk, roughly 1975-80. I can also do ska, rocksteady, soul, and mixed grill sets.
I've been involved with quite a few 'zines, and there's a lot about 'zines on the blog. I wrote regularly for Zoot!, that was a ska 'zine that helped to swing skinhead back to being a style. I've been editing a poetry 'zine, Rising, for 25 years. I still buy 'zines when I see them.
We'd like to know more about Stand Up And Spit, where you post lots of archival material on punk, reggae, subcultures and ranting poetry.
As I previously said it's there to give history and context to ranting poetry. It also covers the music and politics of the time too, they were all closely wrapped.
There's a lot of working class poetry on the blog, I enjoy the research for that. I go through lots of old newspapers and magazines, and also read a lot of history.
That working class voice was one of the good things that Oi! did.